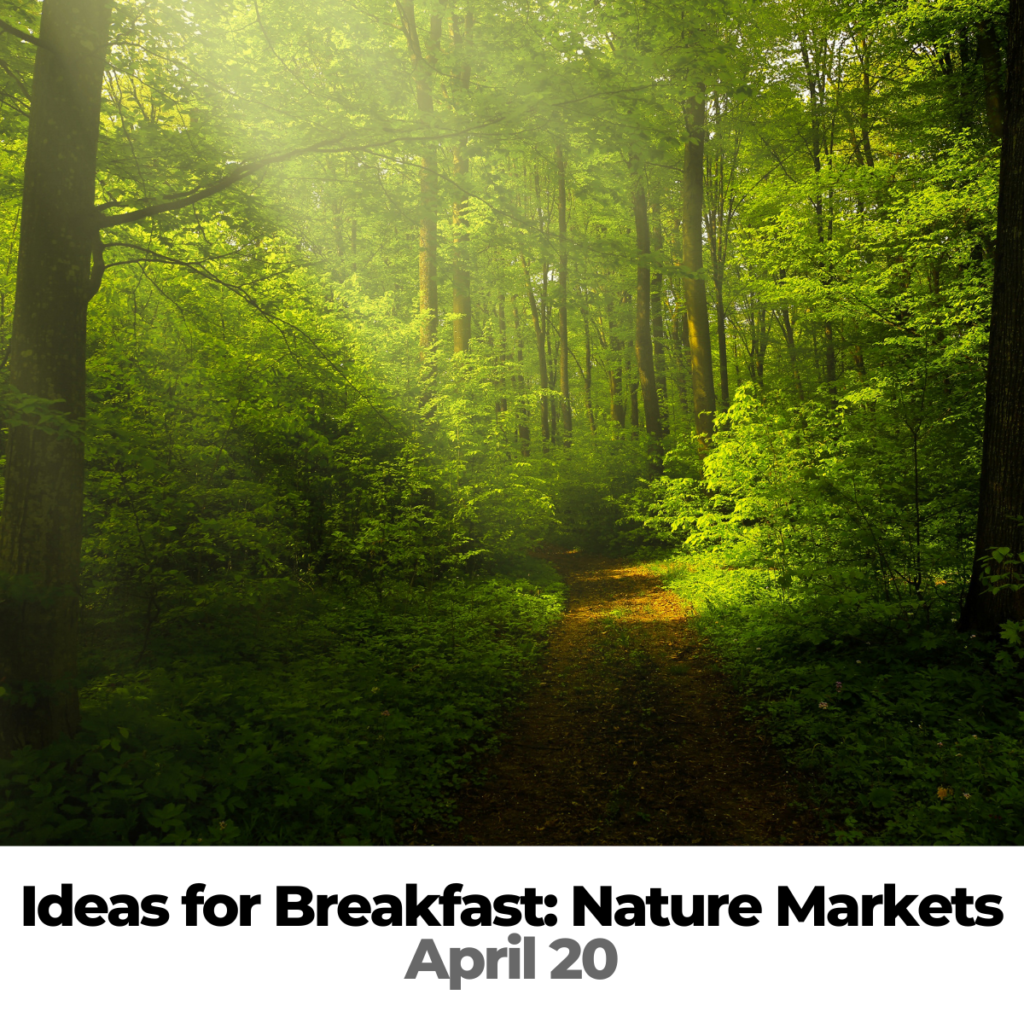 Ideas for Breakfast: Shaping Equitable, Nature Positive Markets for Planet and Portfolios
Date: Thursday, April 20, 2023
Time: 8:30-10am (coffee served from 8:30-9am, presentation starts at 9am sharp)
As the world continues to struggle to find swift and meaningful solutions to tackle the triple crisis of biodiversity loss, climate change and unsustainable development, the role of nature markets is receiving increased global attention. Trying to protect nature by putting a price tag on it is akin to 'fighting fire with fire', but many see this as an opportunity to develop high-integrity business activities, markets, and economies. By channelling investment into nature-positive markets we can better protect, invest in, and regenerate nature.
Join another Ideas for Breakfast session featuring two experts from NatureFinance to hear about opportunities and challenges to delivering on the potential upsides of nature markets. The Taskforce on Nature Markets has valued nature markets globally at nearly US$10 trillion.  The Taskforce has identified governance as the underlying ingredient that will determine the failure or success of existing and emerging nature markets – in terms of timely scale, price and impact on people and ecosystems. One topic area will be emerging biodiversity credit markets as an area of growing international interest. The second topic will cover the links between illegal nature markets and legal investment supply chains – a critical area for action given that nature crimes generate US$281 billion annually. 
About the Speakers
Dorothée Herr is a Senior Associate at NatureFinance and leads the work on biodiversity credit markets contributing to the broader work on building a better governance of nature markets. Dorothee was previously the Manager for Ocean and Climate Change for the Ocean Team at the International Union for Conservation of Nature (IUCN), leading the IUCN's international policy and private finance engagement on coastal and marine Nature-based Solutions. She has authored articles and reports on ocean acidification, Blue Carbon as well as on coastal and marine Nature-based Solutions (NbS) in the context of the UNFCCC, CBD and other international policy fora. Dorothee developed, with a team of financial experts, the Blue Natural Capital Financing Facility (BNCFF) and the Blue Carbon Accelerator Fund (BCAF) and co-developed the Subnational Climate Fund (SCF) and its Technical Assistance Facility, funded by the Green Climate Fund. She received her masters degree in Environmental Change and Management from Oxford University, UK and her diploma in Geography from the University of Heidelberg in Germany.
Mark Halle is a Senior Advisor at NatureFinance. Mark grew up in Geneva, Switzerland, took his first degree from Tufts University in the US and a post-graduate degree in history from the University of Cambridge.  Following two years with the Diplomatic Secretariat of the Conference on Security and Cooperation in Europe (CSCE) he has devoted his entire career to environment and sustainable development, beginning with five years in the United Nations Environment Programme's Policy Planning Division.  He then spent four years in WWF-International's Conservation Division, with responsibility for building its programmes in China and as conservation officer attached to the WWF International President HRH The Prince Phillip, Duke of Edinburgh.  There followed fourteen years at IUCN, first in the Conservation for Development Centre (integrated into IUCN as the Field Operations Division), then as Director of Development and, finally, as Director of Policy and Partnerships.  He left IUCN to establish the International Institute for Sustainable Development (Europe) which he directed until retirement in 2016 and where he remains a Senior Fellow. Mark was a Senior Advisor to the UNEP Inquiry into the Design of a Sustainable Financial System for the four years of its mandate, taking special responsibility for developing countries.  He helped establish and is Senior Advisor to the international network of Financial Centres for Sustainability (FC4S), where he led on development of the FC4S programme for Africa and the emerging programme on biodiversity finance.  He is also a Principal of the Finance for Biodiversity initiative (F4B) in which position he has assisted in establishing NatureFinance in Geneva.  He is a co-founder of Better Nature, a partnership that focuses on nature narrative development. Mark is Chairman of the Board of TRAFFIC International, the world's leading wildlife trade organization.  He sits on the board of Sustainable Finance Geneva.  Mark writes and lectures on the subject of sustainable development.  He is a founder of the Geneva 2030 Ecosystem, a platform for dialogue and cooperation about the challenge of implementing the Sustainable Development Goals.