© Mark Henley Building Bridges 2021 Gala Dinner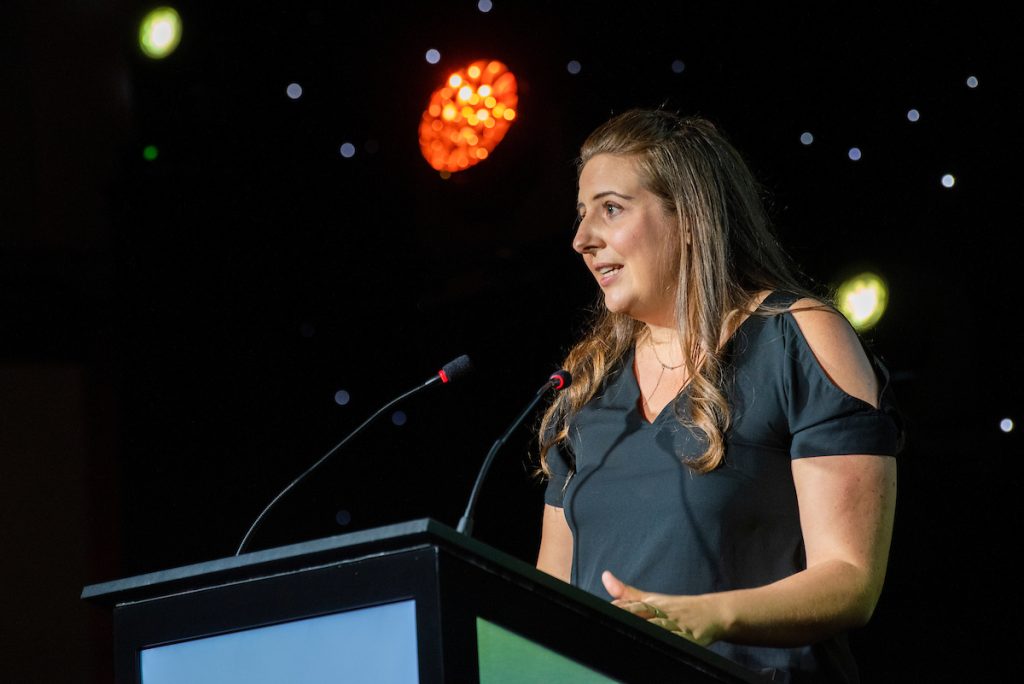 Meet our Community Manager
SFG is proud to announce the arrival of our new Community Manager, Kali Taylor.  Kali started her position on January 15 and has already hit the ground running.  Here's everything you need to know about her and what she will be doing to support SFG members and stakeholders.
When did you first hear about SFG and what made you interested in the organization?
I am no stranger to SFG; I actually first began collaborating with the organization back in early 2018.  At the time I was leading Geneva 2030, a partnership between the International Institute for Sustainable Development (IISD) and the SDG Lab at the UN Geneva. Our mission was to accelerate implementation of the 17 Sustainable Development Goals by leveraging the unique ecosystem in Geneva.  It did not take us long to realize that finance was a key barrier, and that unlocking private capital was fundamental to SDG achievement.  Given Geneva's strong financial market players, we felt we could have a big impact and SFG was the perfect partner to do this mobilization with.  I have been working with SFG ever since, including last year when I acted as the Coordinator for Building Bridges 2021.
How long have you lived in Geneva?
I am from a small town of only 2,500 people in the middle of the Canadian prairies.  I first spent time in Geneva for an internship at UN Environment in 2015 and then moved here more permanently in July 2016 to work with IISD.  I love the city. I love that it has an incredible international community and is so accessible to the mountains and nature.  I was also thrilled to have the opportunity to learn French because it was not available to me growing up. I'm still a little slow speaking but I have made a lot of progress these last five years so SFG members should feel free to speak to me in whatever language they are most comfortable.
What is your educational background?
I did my undergraduate degree in Business at the University of Calgary.  My Masters was a special program by the University of Waterloo in Social Innovation offered to young Canadians working in social change.
What else have you worked on during your career?
A lot of people don't know this about me but I actually started my career in the oil and gas sector.  This sometimes comes as a surprise because I am so passionate about sustainability, but it was seeing the inside of energy industry that sparked my interest in climate change issues in the first place.  After several years working with energy companies on their CO2 reduction strategies, I left to run a not-for-profit that I co-founded with two friends while I was in University.  It's called Student Energy and aims to engage young people from all over the world in the energy transition. It is an organization with a large, global community so I have a lot of experience in community mobilization that I hope I can bring to SFG. 
What are your plans for the SFG Community?
I think SFG has such a special role to play.  It was working on sustainable finance long before it was the hot topic and I think we can build on that history to ensure that SFG is always looking to the next horizons of sustainable finance.  I want to make sure we are offering significant value for our members while also being a productive, proactive player in the overall landscape here in Switzerland.  This means that I will be pushing forward key initiatives like the Gender Lens Initiative for Switzerland and Building Bridges, while also creating more opportunities for our members to learn, build capacity, and strengthen their networks.