Aux alentours de Diffa, village de Garin Wanzam. Un volontaire de la Croix-Rouge nigérienne salue le président du CICR, Peter Maurer, alors qu'il visite un point de distribution. Outside of Diffa, Garin Wanzam village. A volunteer of the Red Cross Society of Niger greets ICRC president Peter Maurer as he visits a food distribution.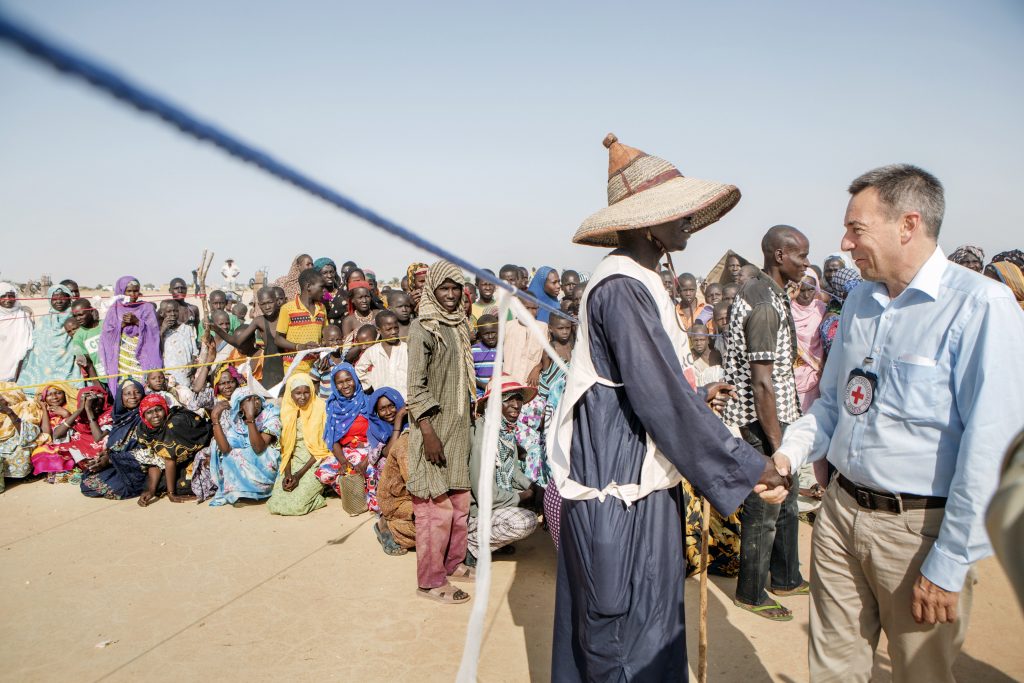 ICRC's new fund links humanitarian response and environmental action
At the end of January, the International Committee of the Red Cross (ICRC) announced the launch of its new Climate and Environment Transition Fund; developed with support from the governments of Switzerland and Liechtenstein, and the Lombard Odier Foundation.  At SFG, we believe Geneva's rich ecosystem has the potential to unlock more capital for the world's most pressing challenges, so we caught up with Peter Maurer, President of the ICRC, to learn more about this new fund, what it aims to achieve, and how the finance industry and other private sector players can be involved in this mechanism and others in the future.
What exactly is the ICRC Climate and Environment Transition Fund?  How will it function?
The Environment and Climate Transition Fund is an ambitious project designed to support environment and climate initiatives throughout the ICRC's global operations.  The fund will help the ICRC to reduce our greenhouse gas emissions by at least 50% by 2030 (compared with 2018 levels) and to factor climate and environmental risks into all our programmes.
The initial funding requirement for the ICRC Climate & Environment Transition Fund is approximately CHF 15.3M. The funds will help us move to solar power in the countries where we use mostly generator fuel.  This will help us to save up to 140,000 tonnes of carbon dioxide emissions and CHF 30-50 million over 20 years. Additional funding will help implement context-specific activities to strengthen the resilience of communities to the combined effects of conflict and environmental and climate risks.
We are looking to include a replenishment mechanism to make it a revolving fund that will continue to support climate and environment projects in the long-term. Its funding will comprise a blend of public and private grants, with the possibility to explore private investment options in the future.
We are thankful to our long-standing partners — such as Liechtenstein, Switzerland, the Fondation Lombard Odier and the ICRC Foundation — who are already supporting the Climate and Environment Transition Fund, and we hope to mobilize others to join this essential initiative.
For some, the link between climate/environment and humanitarian response is not totally clear. How are they connected and why is that connection important?
People living in countries affected by conflict are among the most vulnerable to the effects of climate change. 60 percent of the 25 countries considered most vulnerable to climate change and the least able to adapt are experiencing conflict.
This does not point to a direct causality between climate change and conflict, but to the lesser adaptive capacity of countries in conflict, which makes them particularly vulnerable to climate shocks.
Combinations of conflict, food insecurity and accelerating climate change are triggering displacement, fueling tensions and creating humanitarian needs on a massive scale. We are seeing this up close in many of the places where we work: In places like Somalia, which has been weakened by decades of conflict and fragility, droughts have repeatedly forced people to move – and so have floods. In the Sahel, an unpredictable climate and environmental degradation make the survival of remote and impoverished communities more difficult each year. Their coping mechanisms are being radically eroded by violence and instability.
Humanitarian organizations have an important role to play in addressing these crises. The ICRC works to adapt its response to support populations coping with the dual shocks of climate risks and conflicts. Together with the IFRC, the ICRC has led the development of a Climate and Environment Charter for Humanitarian Organizations to guide the sector as it responds to these crises and to rally collective action. The ICRC also strives to become more environmentally responsible. Our activities have repercussions on the environment, and we are committed to minimizing these effects where possible.
Why are institutions like the ICRC exploring New Financing Models (NFMs)?
In short: global needs are growing whilst humanitarian funding is plateauing. The number of countries experiencing protracted crises has doubled to 34 in the last six years and while global needs have continued to increase, humanitarian funding is plateauing. In 2020, an estimated 243.8 million people living in 75 countries were assessed to be in need of humanitarian assistance, an additional 19 million people compared with 2019.
To achieve more sustainable impact for affected communities, we must go beyond the traditional humanitarian aid support. To that end, the ICRC is pursuing a series of innovative finance approaches to enable collaboration and partnerships across the humanitarian, development and private sectors.
For the ICRC, New Financing Models (NFM) are a series of return- and non-return-seeking financial solutions that channel public and private money toward solving humanitarian challenges.
The climate and environment transition fund is one such financial solution, as is the Humanitarian Impact Bond (HIB)launched by ICRC and its partners in 2017 to find ways to finance vital services for persons with disabilities. The ICRC is designing four additional new financing models, to replicate the efficiency measures tested through the HIB in some 80 other centers worldwide, to explore a commercial partnership around our supply chain of orthopedic material, to create more local capacity in Africa, to support the localization of our physical rehabilitation programs in one or two major countries in Asia.
Another major project is the Goma West Water Project, a CHF 40 million endeavor, seeking to bring better and more affordable water and a financially sustainable operating model to 330.000 people. This long-term project (2019-2025) is based on an innovative partnership model across the humanitarian-development nexus, and on innovative financing approaches, mobilizing grants and development financing, creating local capacity and potentially private sector intervention for the operating model.
The first stage of the new fund is primarily focused on grants, how do you see private sector investment playing into the future of the fund?
Depending on the replenishment mechanism we set up and the amount of proceeds we are able to generate from that replenishment mechanism, we may consider opening the Fund to private investor, through private debt.
Beyond financing, there are other collaboration opportunities with the private sector, and the ICRC is seeking engagement in various areas such as expertise in areas such as energy efficiency, or how to incorporate environmental sustainability considerations and best practice into operations; technical assistance on performing energy assessments and audits, recommendations for context-appropriate solutions or training for ICRC staff; and, contractual agreements for delivery of energy solutions or other innovative business models adapted to local contexts.
Why do you think it is important for international organizations to find ways to work with the finance industry?
The ICRC and Lombard Odier started their interaction already in the 1860s. A number of Swiss financial industry companies have supported us over the years through the ICRC's Corporate Support Group. Munich Re and Lombard Odier helped us structure the HIB and invested in it, or offered it to their clients as an impact investment product. These partners have and are providing seed funding and/or advise to design additional new financing models.
Beyond that, the crises of today, conflict, climate, pandemics, digitalization and cyber-attacks, present unparalleled opportunities and risks. No one can address these challenges alone. Radical transformation is urgently needed to prevent further suffering. It is clear that multisectoral partnerships, including with the finance industry, are essential if we are to develop appropriate responses that meet the urgent needs of people enduring conflict and if we are to help them adapt to future risks.