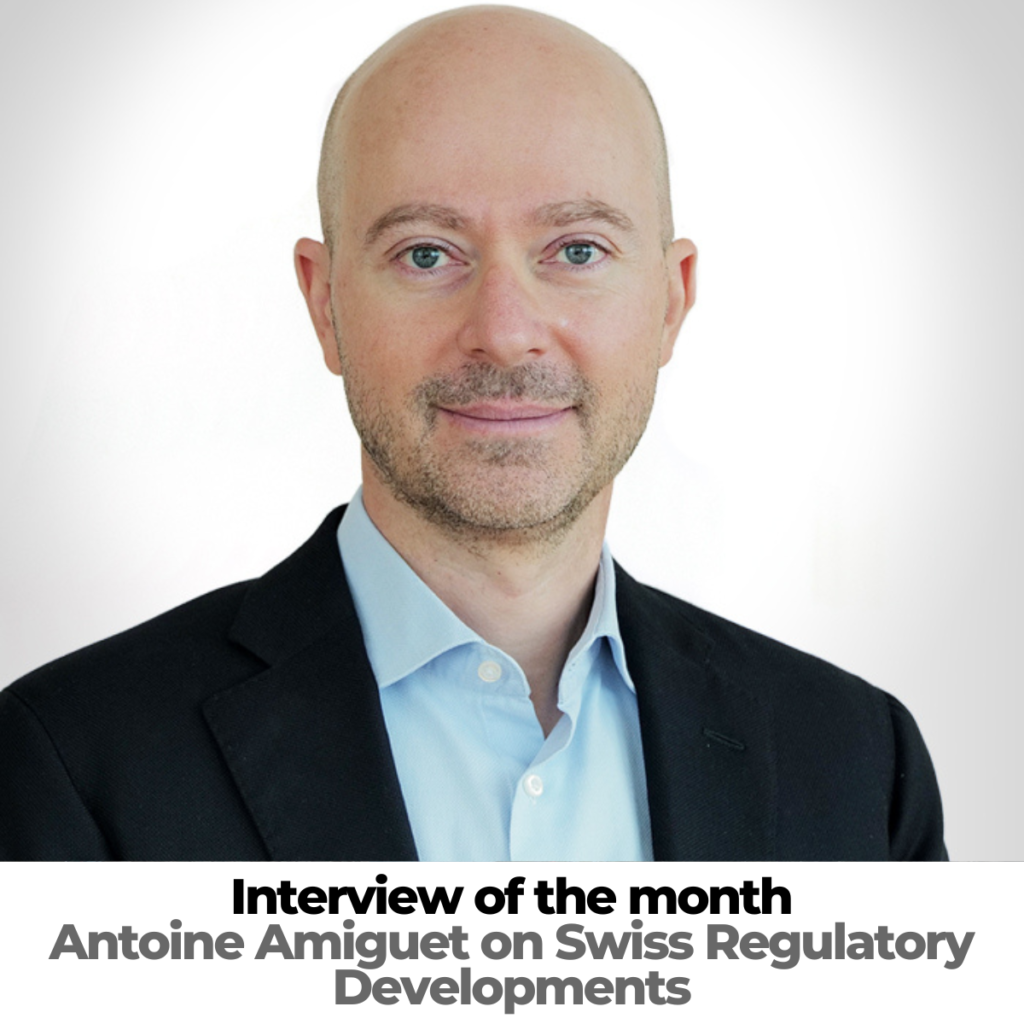 Interview on the Month : Antoine Amiguet on Swiss Regulatory Developments
This month, we sat down with Antoine Amiguet, one of our CSS members and a partner at Oberson Abels, about the latest FINMA consultation on environmental risks and other regulatory developments in the Swiss financial center. He explains the process, takeaways, and expected outcomes for financial institutions
You recently participated in a FINMA consultation on environmental risks. Can you tell us a little bit about what the consultation process entails, your main takeaways, and what we might expect to see out of this kind of effort?
FINMA is planning to issue a new Circular that will provide detailed guidance on environmental risk management, outlining its expectations for financial institutions. Sustainable Finance Geneva (SFG), along with other sustainable finance stakeholders, has been invited to participate in the preliminary consultation process.
The primary objective of this new regulation is to ensure that relevant financial institutions identify, assess, mitigate, and monitor the environmental risks that impact them. They will also be required to establish effective governance mechanisms to evaluate the influence of these risks on their overall risk profile, taking into consideration their business strategy and risk tolerance. Initially, the scope of the new Circular will be limited to banks, securities firms, and insurance companies.
It has become evident on an international level that establishing specific requirements for climate risk management is both valuable and necessary. To position the Swiss financial center as a global leader in sustainable financial services, regulatory measures in this domain are essential. SFG fully supports the introduction of this new regulation. The initiative has received positive feedback from other participants involved in the preliminary consultation process.
It sounds like this FINMA consultation is something that will materialize in the longer term, are there more immediate developments that financial institutions will need to take into consideration?
The preliminary consultation conducted by FINMA represents the initial phase in the regulatory process leading to the implementation of a new FINMA Circular, scheduled to take effect in January 2025.
In the shorter term, members of the Swiss Bankers Association (SBA) will have to comply with the Guidelines for the financial service providers on the integration of ESG-preferences and ESG-risks into investment advice and portfolio management, and the Guidelines for mortgage providers on the promotion of energy efficiency from January 1, 2024. As for members of the Asset Management Association Switzerland (AMAS), they will have to comply with the rules laid down in the Self-regulation on transparency and disclosure for sustainability-related collective assets from September 30, 2024.
Further initiatives and developments are to be expected in the near future, including those outlined by the Federal Council in December 2022:
The Federal Department of Finance (FDF) is expected to release a report on the implementation of the principles introduced by the Swiss Federal Council to strengthen measures against greenwashing. The deadline for this report is September 30, 2023. Following the FDF's conclusions, we can anticipate the introduction of new mandatory measures to address greenwashing.
 

The FDF will assess the progress made regarding the conclusion of voluntary industry agreements by financial institutions by the end of 2023. These agreements are deemed essential by the Federal Council for enhancing transparency within the financial sector.
The use of Swiss Climate Scores will be reviewed by the FDF by the end of 2023 to assess their effectiveness as a tool for comparing investments, and their incentive value.
The FDF will analyze the feasibility of establishing a new category of collective investment schemes to facilitate social impact investing. Such a measure would require amendments to the Swiss financial market legislation.
Additionally, an ordinance on climate disclosures will come into effect in January 2024. This set of regulations outlines reporting obligations on climate-related risks for large companies, including major financial institutions.
How would you describe Switzerland's approach in comparison to the EU's?  Are they moving in lockstep or are there key differences?
Switzerland has traditionally adopted a stance in sustainable finance that emphasizes market-based solutions, with state intervention viewed as subsidiary. Consequently, the Swiss approach primarily centers around self-regulation through professional associations like the Swiss Bankers Association (SBA) and Asset Management Association Switzerland (AMAS). In contrast, the European Union (EU) pursues a strategy of sustainable finance that relies more on mandatory rules. However, in recent years, Switzerland has also introduced some mandatory measures. While Swiss laws on sustainability are guided by principles, EU regulations tend to be more prescriptive.
How would these various regulatory developments help financial institutions to improve ESG risks and decrease greenwashing?
The anticipated report from the FDF regarding greenwashing aims to propose measures for preventing deceptive environmental claims within the financial sector. Similarly, the forthcoming FINMA Circular on climate-related risks seeks to establish a framework for enhancing the monitoring of ESG risks by the financial institutions subject to these new rules. Regarding the remaining initiatives mentioned previously (question 2), it is premature to fully gauge their potential impact at this stage.
Do you believe these initiatives will strengthen Switzerland's position as a leader in sustainable finance?
The progress of the aforementioned initiatives varies, and it is difficult to assess their exact impact on Switzerland's strategy and position in sustainable finance at this stage.
Regarding the initiatives with more defined regulatory frameworks (such as the upcoming measures addressing greenwashing, the future FINMA Circular on environment-related risks, and the Ordinance on climate disclosures), they are expected to bolster Switzerland's strategy in promoting sustainable finance and to enhance transparency in financial markets. However, it should be noted that these actions still remain relatively modest in comparison to the comprehensive regulatory framework for sustainable finance established by the EU.