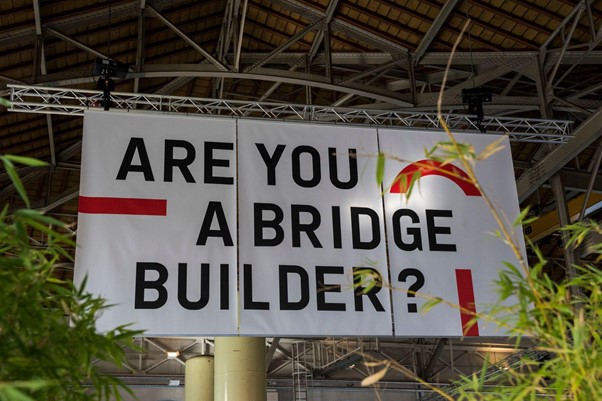 Building Bridges: Geneva Sustainable Finance Summit gears up for second edition
At the end of November, Geneva will pull out all the stops in proving itself a world centre for discussions on sustainable finance.
Launching its second edition on 29 November, the Building Bridges summit will host a series of hybrid conferences and events over four days aimed at rallying the finance community on the left bank of the Rhone and the UN ecosystem on the right to muster up new solutions for steering more capital toward sustainable projects.
The event will take place shortly after the COP26 summit, amidst a packed agenda for conferences centered on tackling the planet's climate and environmental crises, and many capitals now vying to lead the agenda on sustainable finance. The question is can Building Bridges, still in its nascent stage, set itself apart? And how does it plan to achieve this?
Putting sustainable finance in the spotlight 
The industry needs a dedicated "moment" in the international calendar and Building Bridges is the platform for this, claim its organisers. Climate change and biodiversity both have their flagship summits under the auspices of the UN. The World Economic Forum holds the stage for debates on global issues.  Their plans are no less ambitious.
"We want to position Switzerland in sustainable finance where Paris has been able to position itself for climate issues," says Patrick Odier, senior managing partner at Lombard Odier, president of Building Bridges and also the recently appointed president of Swiss Sustainable Finance (SSF).
It's no modest feat, he admits, but "if you're not dreaming, you're not going anywhere," he adds because you have to have aspirations "to position ourselves as an ecosystem where this process can happen".
For Nadia Isler, director of the United Nations SDG Lab, a founding partner of Building Bridges, Geneva offers a unique opportunity to bring two different communities to collaborate together beyond the four-day summit.
"Let's be honest, there are many conferences and workshops on sustainable finance," she says. "The uniqueness of this initiative is that it is co-designed and co-driven by the finance community that knows a lot about investment and a little about the sustainable development goals (SDGs) and the development community that knows a lot about the SDGs but less about finance."
As it stands, these two different sectors rarely work together, Isler continues, "because they don't know each other. There is a trust deficiency and there are many preconceived ideas".
"We are convinced that the only way that we will be able to create a portfolio of investments that work for the SDGs, and make both development sense and finance sense, is if we work together and that is not happening," she adds.
Cue Building Bridges, where collaboration between people with different know-how ensures sustainable finance becomes not just a tool "but the mainstream way of investing in the future",  Isler says.
'A 21st-century movement'
Building Bridges is the culmination of efforts that began in 2008 with the creation of Sustainable Finance Geneva (SFG), an association that groups together individual voices from the finance and sustainable finance industry.
It's a community affair, aimed at encouraging dialogue and a more fluid and earnest exchange of ideas that can otherwise be more difficult to achieve at an institutional level. The same philosophy applies to Building Bridges' success, says SFG director Sandrine Salerno.
"Building Bridges is about creating a movement, not a conference, that brings together voices from very different professions that are not used to working together, but who are keen to learn from each other to find solutions," she says.
Collaborating, as opposed to competing, is a very 21st-century concept, Salerno adds. "We have learnt that if we don't collaborate together we won't be able to overcome global challenges, and historically this isn't how we have functioned – not just in finance, but across all sectors."
Building Bridges's partners include Swiss Sustainable Finance (SSF), both the local Geneva city and cantonal authorities, as well as the Swiss confederation, which also wants to make its sustainability ambitions known, despite recent setbacks in meeting its national climate objectives after voters rejected a law to curb greenhouse gases.
Last year, Switzerland adopted guidelines aimed at positioning the country as a leader in sustainable financial services. The government also recently announced tougher financial disclosure rules for major banks and insurers, who will be obliged to report on their business's climate-related risks from 2024, in another step to meet its commitments.
"Switzerland positions itself as a global hub for investors who want to put their money in projects with a positive impact on the environment and society," said Daniela Stoffel, State Secretary for international finance.
"[The country] is also a leading address for managing and hedging sustainability risks, both in asset management and insurance, and green fintech applications. Building Bridges is an exemplary platform to bring together the whole range of actors and find solutions," she added.
What to expect from this year's Building Bridges 
Details of the conference are still to be announced, but Salerno said they received proposals for over 70 different events, both hybrid and in person. The physical events will take place at two main venues, the Campus Biotech and the Maison de la Paix, provided the Covid-19 situation remains under control.
The workshops and events will revolve around three themes: impact and transparency, including the latest developments relating to ESG disclosure rules and taxonomies; supply and demand mismatch, or how to rethink mainstream investment and drive more capital into sustainable projects; and fintech solutions helping to advance the sustainable development goals (SDGs).
Beyond discussions on sustainability, the event needs to showcase concrete projects and ways in which Geneva's different communities can work together in financing the SDGs, said Isler.
Her team will be hosting a side event where it will be joining forces with the government of Ghana and Costa Rica and the consultancy, the Ground_Up project, to present an initiative they have been quietly developing.
Other Geneva-based organisations taking part include the World Business Council for Sustainable Development (WBCSD) and the United Nations Environment Programme Finance Initiative (UNEP FI) and the Financial Center for Sustainability (FC4S).
Summarising his expectations for Building Bridges, Eric Usher, UNEP FI's director, said: "The theme of this event is how you connect the dots between the communities. It's no longer just about corporate and social responsibility, it's about how banks and other financial actors operate;  what deep integration needs to be done to rewire the financial sector and get capital flowing to the right parts of the economy and away from those areas that create different types of environmental harm."
"The bridge concept can be used in different ways and go in different directions – from the private sector to governments. It needs to be a cross-sectoral effort, because you can only go so far in changing your model without others changing theirs."
Fabienne Fischer, Geneva state councillor and Green party politician, who made her support of sustainable finance projects part of her political campaign, said: "Building Bridges is the missing link connecting the best of sustainable finance and the Geneva financial center to international Geneva as the most active global governance hub on the planet."
"We also plan to make it a very interactive and citizen-oriented event, in collaboration with representatives of civil society and NGOs. The dynamics of Building Bridges should allow Geneva to really make a difference in terms of positive impact on the world."