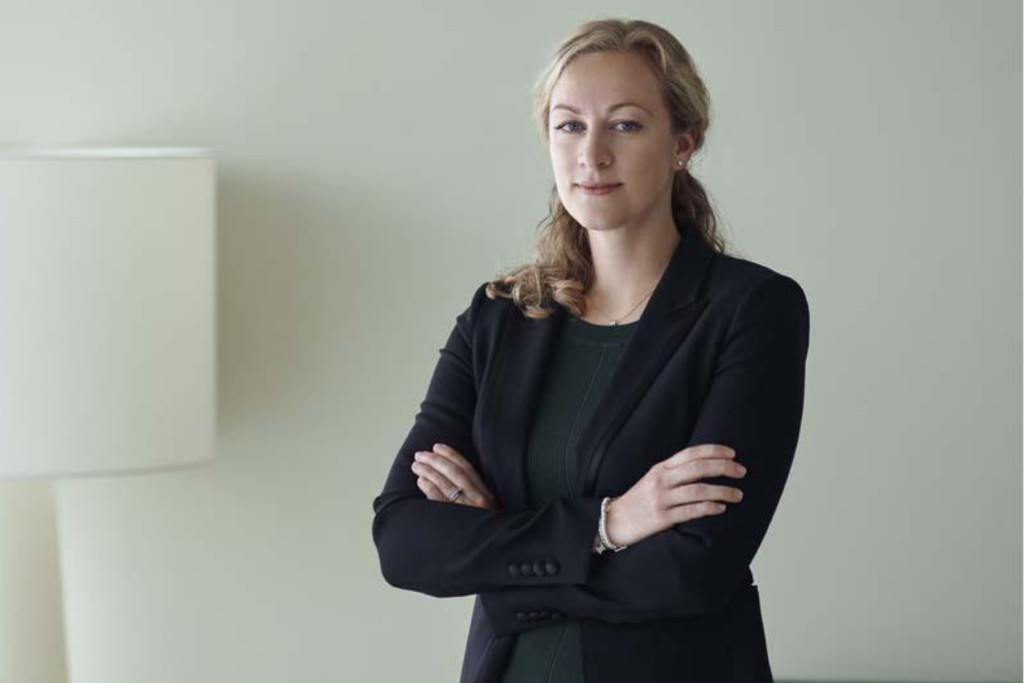 On May 5, 2022, SFG elected its new President at its Annual General Assembly.  Marie-Laure Schaufelberger is a CFA and has over 15 years of experience in the finance industry.  She is currently Head of Group ESG & Stewardship at Pictet Group.  We asked her about her vision and plans for SFG and the future of sustainable finance.
As the new SFG president, what are your long-term objectives for the association and more broadly for Geneva's financial center?
My primary goal is to strengthen the dialogue between finance and international community professionals in French-speaking Switzerland to foster a common language and collective action in the service of a sustainable financial system. Mitigating and adapting to climate change, reversing nature-loss and closing inequality gaps will require interdisciplinary and cross-industry exchanges, thought-leadershipand innovation. SFG is first and foremost a community of individual members and institutional partner organisations within a unique ecosystem comprising over 100 banks, 895 independent asset managers, 179 state representations, 38 international organisation headquarters and 420 NGOs. All present on less than 15km2! Given this rich ecosystem, as financial center we have a unique opportunity to contribute and move the needle on many critical issues. SFG is here to support this movement. The launch of the Gender Lens Initiative for Switzerland working group, the Swiss Social Stock Exchange and the more recent work on Peace and finance are all examples of incubating key sustainable finance trends to ensure they move into the mainstream. In addition to strengthening this work, we will be reaching out to members in the coming months to see where to venture next. 
What are the unique characteristics of the Swiss financial center and how do they support the transition to a low carbon, nature-positive and just

economy?
With 2400 billion in assets under management, Switzerland remains the world leader in cross border wealth management. It is also a leading provider of asset management products and solutions, both in mainstream and innovative finance. Add to this two components: the knowledge developed within International Organisations, NGOs and Foundations that understand how to measure outcomes and the nascent fintech and blockchain ecosystem flourishing across the country – and you get a powerful recipe for change. Connecting the right dots will allow us to create the high quality products and solutions needed to redirect capital towards positive social and environmental outcomes and to ensure the capital we manage for clients in Switzerland and globally is stewarded for a sustainable future.  
With the official creation of the Building Bridges foundation this year, how do you think this will affect or change the role of SFG in the local ecosystem?

 
It doesn't change SFGs role and our primary responsibility to bring the ecosystem to life for the benefit of our members and the broader community. Building Bridges is a great example of how SFG played a role in connecting the dots across the ecosystem and incubated an idea that has now turned into a movement. We are still the organising partner for the 2022 Summit and Week thanks to the tireless work of our Director Sandrine, Community Manager Kali and the many members that volunteer their time, energy and inputs to make this vision come to life. We will continue to be involved in the Week as it is fully aligned with the work we do throughout the year and SFGs 3 pillars – our community, the Geneva ecosystem and innovation. Moving the system from a focus on short-term financial outcomes towards long-term planetary or social outcomes is a massive task, and there will continue to be a huge role to play for SFG at the grassroots level, SSF at the national level and the Foundation as a critical international platform and catalyst.                                                                                                                                              
In an interview, you once said that we are undergoing a paradigm shift from the shareholde

r value maximization to systemic value creation. What are the key aspects to keep in mind in this new paradigm and how would you actually define it?
For decades by focusing only on maximizing shareholder value without integrating the cost of our activities on the environment, we have essentially benefited from a "free lunch" on the back of planet earth. Now that we have the data, we realize we have built up enormous debt vis à vis essential ecosystem services – the carbon and water cycles, land systems, and biodiversity. Our response over the last decades has been to ask for multiple extensions on this debt, rolling it further and further into the future. Planet earth is now giving us increasingly frequent margin calls in the form of forest fires, floods and rising sea levels. Like financial debt, the longer we wait, the higher the cost will be. Very unlike financial debt, there is no central bank for nature. No human institution can intervene overnight to drawdown carbon from our atmosphere, print more healthy soil, or inject more water where it is needed most. It is also becoming increasingly apparent that there will be no transition if social issues like livelihoods and equality are not addressed upfront. It is all linked, and also why Diversity and Peace are two priority themes for SFG. As our awareness of our dependence on natural systems grows, so does our capacity to find solutions. I am convinced we will design a financial system that is regenerative by design.   
What key challenges are for you still an obstacle for further pushing sustainability within the industry and do you have any ideas for how we can overcome those challenges­
Our key challenge is that our system is designed for financial efficiency in the short term, not with long-term outcomes in mind. This is not just a problem of the financial services industry, but it is especially pervasive given how numbers-driven the industry is and how much influence it exerts on the rest of the system to conform to this view of the world. Many of the most important issues and challenges we face as a species do not yet have hard data linked to them, and yet we must tackle them anyway. The way we overcome this is by bringing different fields of expertise and knowledge together. Finance knows how to evaluate risks and allocate capital, international organisation and NGOs understand solving for outcomes, and states have enormous power through their procurement and infrastructure budgets and policies. Citizens, in some of the wealthiest nations have the power to vote for the change they want to see in the world. We must get the right people and institutions to talk, and more importantly to act,together. It's a tall order, but if we can do it, we will deliver the solutions we need, and finance will fulfil its purpose to channel and steward the capital for this generation and the next.