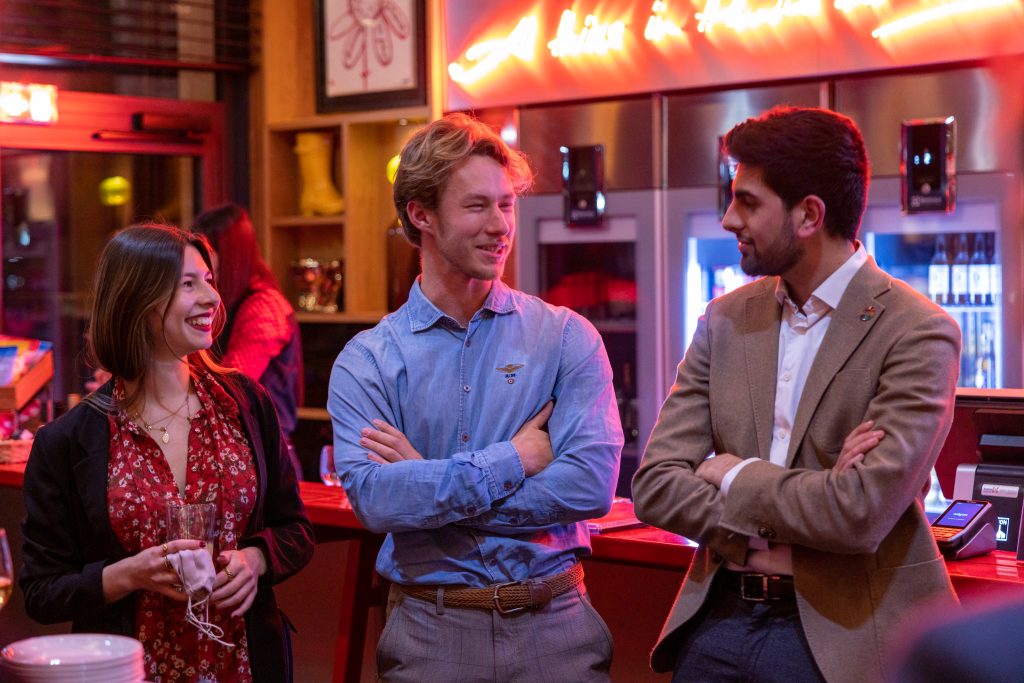 Three young people on a world tour to tell SDG Impact Stories
To achieve a sustainable future, we need companies with business models that serve people and the planet.  Three young people from Switzerland are on a mission to spread the stories of impactful entrepreneurs all around the globe. We sat down with Shaan Madhavji, one of the founders, to learn more about the initiative.
Who is behind SDG Impact Stories? Tell us a little bit about yourself.
We are a team of 3 individuals with a strong will to take action on global challenges and accelerate the transition towards a fairer and more sustainable world.
Guillaume and myself (Shaan) recently graduated from the Hospitality Business and Management School of Lausanne (EHL) in June 2021. Clarissa also graduated from EHL, in 2019, and worked at KPMG as a Junior Auditor and then as a Forensic Consultant for a little more than 2 years.
Together we have raised 57,000CHF (35,000 from EHL and 22,000 through crowd funding) to get this idea off the ground.
What is the SDG World Tour of social entrepreneurs ?
To put it simply, it's a World Tour across 20 countries over 6 months to highlight the work of 50+ social entrepreneurs who contribute to at least one of the 17 Sustainable Development Goals. While we are covering all SDGs, we primarily focus on Education, Food, and Climate action. The tour kicked off on February 1st, 2022 in Switzerland. We will meet entrepreneurs from 20 different countries in Europe, Africa, Asia, the Middle East, and North and South America between February and July 2022.
For each entrepreneur, we produce a 3-minute video about the social enterprise that highlights the problem the company is trying to solve, the solution(s) they have designed as well as their (potential) impact. In addition, we create a more in-depth 20-minute video of an interview with the founder or an executive.
As our project grows, we are also starting to meet with thought-leaders, philanthropists, professors, and renowned change-makers to add perspective on the topics we are tackling.  We feature these guests as speakers in our "Walk the Talk" series. The series will notably feature Magali Silva (former Minister of Foreign Trade and Tourism of Peru), Robert Rubinstein (pioneer in impact investing), Noella Richard (Director of UNDP Youth in N-Y), professors from Harvard, MIT and many more.
What are you trying to achieve?
First of all, we primarily want to put the spotlight on the concept of social entrepreneurship, and its potential to accelerate social and environmental change. At SDG Impact Stories, we believe that small to medium-sized social businesses can have a major impact on their communities locally, and globally. Social entrepreneurs not only have a positive impact but are profitable as well, which is essential for them to grow in the long term.
Additionally, we want to raise awareness of the 17 SDGs, which can be considered as a blueprint to achieve a better and more sustainable future for all. The UN describes them as an urgent call for action for governments, corporations, and individuals to reduce inequalities, promote social inclusion and protect the environment.
Lastly, we wish to inspire younger generations to pursue a career in the field of social and environmental impact.
In recent years, young people have been more involved politically, making a conscious effort to consume more responsibly and avoid companies with questionable practices. However, the field of impact careers is still emerging, fragmented and tricky to navigate through. Therefore, we want to spread information about the numerous opportunities that exist in that area.
Why is it important to tell the stories of social entrepreneurs?
Today, we're facing unprecedented social and environmental challenges. A lot of inspiring individuals are leading the way towards making the world more sustainable. However, few people know about their work and impact. Telling a story, if well done, can trigger emotions, encourage reflection, and ultimately empower individuals to make informed decisions.
Can you give us a preview of some of the entrepreneurs you will be meeting along the way?
With the support of amazing organizations such as Ashoka, the UN SDG Lab, The Social Gastronomy Movement, AKDN, EHL, AlphaMundi, Quadia, The Knowledge Society, IKEA Social Entrepreneurship, and the UN Development Program, we selected some of the most innovative and impactful companies we could find.
About 40 companies are already part of the project, such as Tyres Recycling Solutions (unique solution to recycle tires); Winnow (using AI to fight food waste); Ynsect (transforming beetles into high-value ingredients for animals and humans, and for use as a fertilizer), Fairphone (smartphones respectful of people and the planet); Kidogo (an early childhood education start-up operating in underprivileged regions of Kenya) and many more.
Why should the finance sector consider following your project and how can they help?
Banks, insurance companies, asset management institutions, all have a major influence on the business ecosystem They choose which companies get funding and under which conditions. The current system favors short-term profit and incentives, to enable higher returns. This impedes businesses from committing to having a positive impact. But, over the past few years, there has been an increasing number of financial institutions that have decided to act responsibly and strive for change.
Impact investing is a good example. It consists of investments in companies, organizations, and funds aiming to generate positive social and environmental impacts that are actively measured, along with return on investment. Impact investing challenges the assumption that social and environmental problems should be addressed only by philanthropy, and not by profitable businesses.
We share the same vision, as we believe many purpose-driven businesses can be a great investment opportunity. Following the SDG World Tour could allow the finance industry to discover promising organizations, in terms of return and impact. Hearing from the founders themselves, having access to operational insights on the field, and how local communities benefit from their work gives perspective and adds value.
There are many ways you can help. One way is to spread the word about the SDG World Tour and share it on social media. Furthermore, the SDG Impact Stories is very keen on engaging in meaningful discussions around the topic of impact investing, with associations like SFG. We would be happy to take part in events, podcasts, and conferences where we can amplify our messages.
Where can people follow along?
You can follow our journey on @SDGimpactstories on Instagram, Facebook, Youtube or LinkedIn. We look forward to having you as part of our community!